Safeguarding
Safeguarding legislation and government guidance says that safeguarding means:
Protecting children from maltreatment
Preventing impairment of children's health or development
Ensuring that children are growing up in circumstances consistent with the provision of safe and effective care
Taking action to enable all children and young people to have the best outcome
Safeguarding includes child protection, health care plans, health and safety, site security, safety on school trips, anti-bullying work and so much more.
The Academy is committed to the vital contribution all Governors and staff can make to safeguard children. We will strive to make sure that every student in the Academy feels secure, well cared for, and able to reach their full potential.
We will ensure all our own staff, other professionals, parents/carers and students work together to know the rules about keeping children safe. They will understand the importance of following procedures and listening to each other, especially when there are concerns about safety.
The school adheres to the following three DFE safeguarding documents:
Working Together to Safeguard Children
Keeping Children Safe in Education
The Prevent Duty
E-safety is the responsibility of all staff, pupils and parents. If you need advice or have concerns click here to access the Child Exploitation and Online Protection Website.
ACT Early work with other organisations to protect vulnerable people from radicalisation. Please Click Here for more information.
The Thurrock Local Safeguarding Children Partnership can be found by Clicking Here
Please Click Here for all school policies
The Academy will work hard to reduce all the kinds of harm that children can suffer, including abuse, bullying, discrimination and avoidable injuries. If you have any concerns at all about the safety or welfare of a child please do not hesitate to contact us.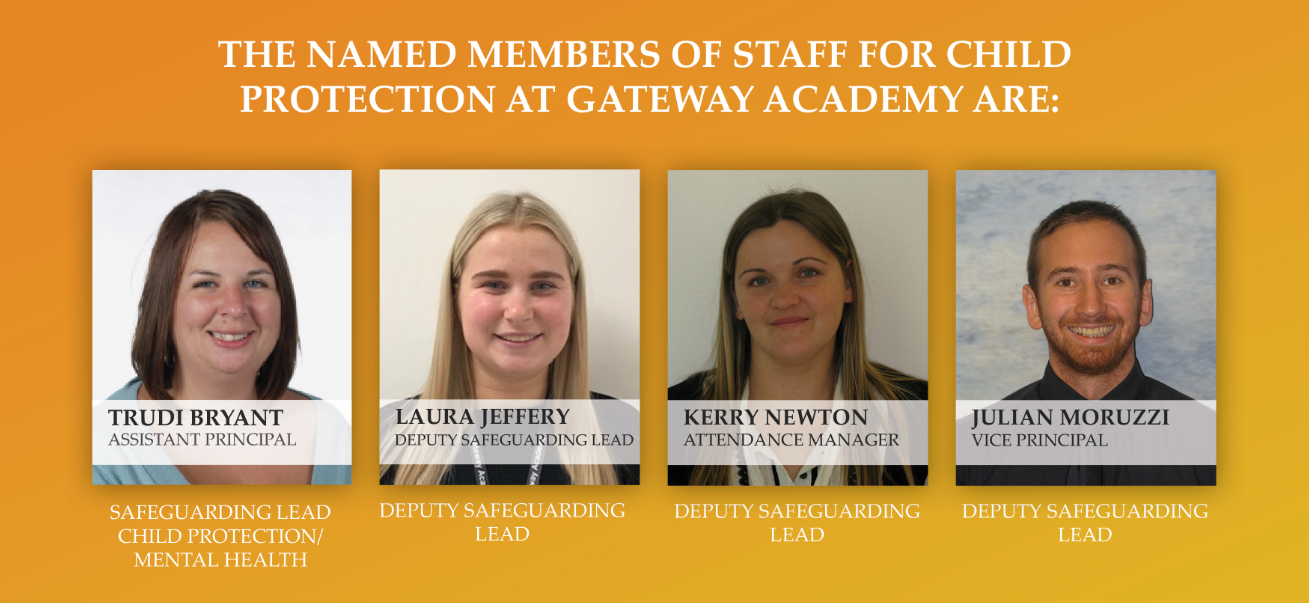 Designated Safeguarding Lead:
Name:
Trudi Bryant
Contact Number:
07943 983649
Email Address:
cp-gateway@theglc.org.uk
Deputy Designated Safeguarding Leads:
Name:
Laura Jeffery
Contact Number:
01375 489073 / 07506 793436
Email Address:
cp-gateway@theglc.org.uk
Name:
Kerry Newton
Contact Number:
01375 489077 / 07834 528277
Email Address:
cp-gateway@theglc.org.uk
Name:
Julian Moruzzi
Contact Number:
07860 910844
Email Address:
cp-gateway@theglc.org.uk
Nominated Governor for Child Protection:
Name:
Chris Coles
Key Contacts within the Local Authority:
The Multi Agency Safegaurding Hub (MASH) is available for advice and consultation on Child Protection matters:
01375 652802
Referral to Children's Social Care:

Where schools have URGENT and IMMEDIATE concerns for the safety and welfare of a child or young person during office hours telephone:

01375 372468

To make URGENT referrals OUT OF OFFICE HOURS telephone helpline on:

08456 061212

For all NON–URGENT referrals and enquiries telephone:

01375 652802 / 01375 652634
The following members of staff are responsible for:
Bullying
Ms B Mead [Year 9 Progress Lead]
becky.mead@theglc.org.uk
Homophobic Bullying
Mr M Scott [Year 8 Progress Lead]
martyn.scott@theglc.org.uk
E-Safety
Mrs A Dixon [Year 11 Progress Lead]
ami.dixon@theglc.org.uk
Racism
Mrs A Shannon [Year 10 Progress Lead]
abbey.shannon@theglc.org.uk
Violence against females
Mrs L Bruce [Year 7 Progress Lead]
laura.bruce@theglc.org.uk
Mental Health - For urgent phone support:
Samaritans
116 123
Childline
0800 1111
NSPCC
0808 800 5000
[Click on images below to go to their website]