New Entrants Form and FAQs
Click here or on image for downloadable application form: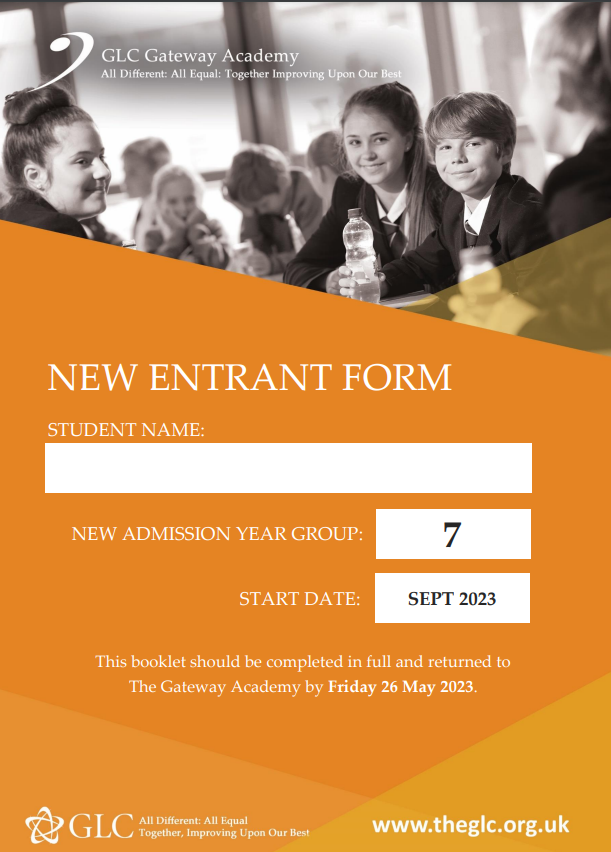 You will need to download the New Entrant Form and save it to your computer. You will be able to fill it in onscreen. When finished, save the forms as "New Entrants Form 2023 -student's name" and return to admissions@theglc.org.uk
FAQs
1. Do I need to download the new entrant form and save it to my computer before i fill it in?
Yes you do, To download the new entrant form click on either the text link at top of page or on the large image above. This will open the form as a PDF, click on the Save As icon and save it to your computer as New Entrants Form 2023-student's name.
2. Do I need to complete the form in one sitting?
You can if you want but as long as you save it constantly (and certainly before closing it) you can go back to it later and pick up from where you left off.
3. Why can't I complete the document online and submit through the website?
Whilst every attempt would be made to protect you and your child's details from hackers NO system is 100% secure. At the Gateway Academy we take data protection and GDPR regulations very seriously. It is therefore far more secure for you to download the form, complete on your home computer and email it back to us as an attachment.
4. Do I need to save the New Entrant Form as a different file type?
No, there is no need to this. Just save it as New Entrants Form 2022 -student's name and send it straight back to us at admissions@theglc.org.uk
5. I have further questions
We welcome all questions. If this page has been unhelpful please email your question to admissions@theglc.org.uk